No. 5 Vols beat No. 1 Florida to win SEC title
The Tennessee tennis team was ranked fifth nationally and had lost just twice in league play heading into Friday's SEC Tournament final in Fayetteville. The first loss came at Florida on March, the second an upset loss at Arkansas three weeks ago.
Friday presented the Vols a chance to get redemption on two fronts.
Mission accomplished.
The Vols beat top-ranked Florida, 4-3, to capture the league championship.
Florida (20-2) had been unbeaten in league play heading into Friday's championship match, and it had given the Vols a 5-2 thumping in Gainesville. The Gators' only loss had been a 4-3 setback at second-ranked Texas in Austin back in January.
Tennessee (24-3) came good with the league title on the line, though, taking two of the three doubles matches to secure the doubles point before winning three of the six singles matches and taking down the nation's top-ranked team.
It was a huge day to cap a huge week for coach Chris Woodruff and his Vols, who just did even more to help their seeding heading into the NCAA Tournament draw on May 3.
Doubles matches are played before singles matches in college tennis, with one point being awarded to the first side to win two matches. As dominant as Florida has been this season, the Gators lost the doubles point in each of their first two matches in the tournament and overcame that in a 4-2 win over Georgia in the quarterfinals and a 4-3 win over Texas A&M in the semifinals.
Tennessee handed Florida a third consecutive loss in the doubles round. Florida's 15th-ranked duo of Sam Riffice and Ben Shelton quickly defeated Tennessee seniors Giles Hussey and Mark Walner in the No. 3 doubles match, but the Vols bounced back with a pair of wins to take the doubles point. Tennessee's third-ranked duo of senior Adam Walton and junior Pat Harper defeated Florida's 25th-ranked duo of Johannes Ingildsen and Will Grant in the No. 1 doubles match, which left things up to the No. 2 doubles match, where Vols freshman Johannus Monday and junior Martim Prata scored a 7-5 win over Duarte Vale and Josh Goodger.
Securing the doubles point was big for the Vols, but the Gators had already proved twice this week that they didn't need that to win the match. Five of their six singles players are nationally ranked, and they tend to control things there.
Not Friday, though.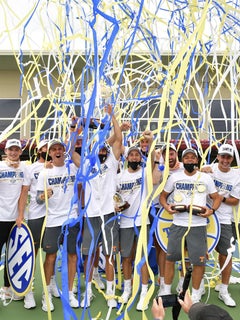 No. 92 Hussey, a senior from England, continued his unbeaten week with a 6-4, 6-3 win over Shelton in the No. 5 singles match, giving the Vols a 2-0 lead. That lead quickly grew to 3-0 when No. 11 Monday, a big freshman southpaw also from England, polished off a 6-4, 6-4 win over No. 6 Riffice in the No. 2 singles match.
Florida rallied to win the next three points, though. No. 3 Vale took down No. 13 Walton, a senior from Australia, in the No. 1 singles match to put the Gators on the board. No. 104 Goodger then scored a 7-6, 4-6, 6-3 win over Harper, a junior from Australia, in the No. 6 match.
The Gators tied the score at 3-3, but not without some controversy. Luca Wiedenmann, a senior from Germany, seemed to give the Vols a 4-2 win and the SEC title in his No. 4 singles match against No. 56 Blaise Bicknell, and Tennessee had already started to celebrate in a dog pile on the court before officials ruled that Wiedenmann's match-winning serve was out of bounds. Replays seemed to clearly the show the ball stayed in play, but the call from the officials stood. Bicknell then rallied for a 6-3, 3-6, 7-6 win to level the match at 3-3.
Everything at that point came down to the No. 3 singles court, where No. 50 Prata, a junior from Portugal, had to upset No. 14 Andy Andrade to win Tennessee the title. Prata did just that, breaking Andrade's serve to finish a 7-6, 2-6, 7-5 win.
Prata threw his racket in the air and lied on his back when Andrade hit a forehand beyond the baseline, waiting for his charging teammates to dog pile him. That dog pile came, and that time it didn't need to get broken up by the officials.